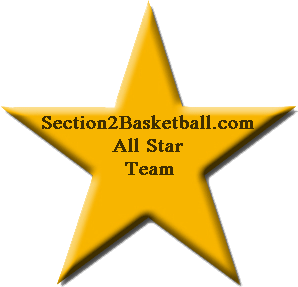 The All-Star teams are broken down by classifications (AA, A, B, C, & D) for this year's players.  After covering a bunch of full games this season, and watching countless hours of film, I've seen many of the players listed below. For the player's that I haven't watched in person I've relied on contacts in Section 2, other online content/stats/reports, game film, and custom player rankings that I've created.
What I've tried to do for the custom computer-generated player rankings is create something that will take into account a player's scoring, her team's overall performance, and factor in the percentage of her points versus her team's total point total. Point statistics were used from timesunion.com to compile those numbers. With limited other stats available online (rebounds, steals, assists, etc.) I feel this is the best way to construct the rankings as it factors in overall team performance too.
Past computer player rankings, created for Section 2, have been in line with the top players in the Section as well as players that have moved on to play at the next level. In other words, I trust them as an independent opinion differing from my eyes and other research. All 3 sets of rankings (eyes, computer rankings, and research) are factored in when creating the teams below.
(Players that scored around 10% or more of their team's total points were ranked and considered for the teams. Over 350+ players fit the criteria. I also know that I've left off really good players. I've done the best I could when comparing a player's impact on their team and factoring in their overall team strength.)
Players are listed in alphabetical order by their team.
---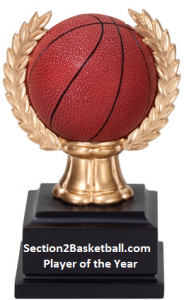 Players of the Year
Dolly Cairns
Saratoga Springs High School & Rhode Island Basketball commit.
—————————————————————————————————————–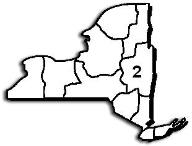 All Star Teams
| | | |
| --- | --- | --- |
| | Class AA | |
| | | |
| Player | 1st Team | Class |
| | | |
| Ahniysha Jackson | Albany | AA |
| Valencia Fontenelle-Posson | Guilderland | AA |
| Olivia Olsen | Niskayuna | AA |
| Dolly Cairns | Saratoga | AA |
| Meghan Huerter | Shenendehowa | AA |
| | | |
| Player | 2nd Team | Class |
| | | |
| Sareena DiCerbo | Colonie | AA |
| Natasha Chudy | Saratoga | AA |
| Maddisyn Mahoney | Shaker | AA |
| Rylee Carpenter | Shenendehowa | AA |
| Simone Walker | Shenendehowa | AA |
| | | |
| Player | 3rd Team | Class |
| | | |
| Maren Louridas | Bethlehem | AA |
| Lauren Patnode | Saratoga | AA |
| Abby Ray | Saratoga | AA |
| Jules DeBeatham | Shaker | AA |
| Kaitlyn Watrobski | Shenendehowa | AA |
| | | |
| Player | 4th Team | Class |
| | | |
| Julia Harvey | Bethlehem | AA |
| Emma Souky | Niskayuna | AA |
| Natalie Prian | Niskayuna | AA |
| Bella Stuart | Shenendehowa | AA |
| Jillian Huerter | Shenendehowa | AA |
| | | |
| Player | 5th Team | Class |
| | | |
| Macie Trimarchi | Colonie | AA |
| Makayla Blake | Colonie | AA |
| Ahnalese Pearson | Colonie | AA |
| Heather Schmidt | Niskayuna | AA |
| Kaelah Carter | Shaker | AA |
| | | |
| Player | 6th Team | Class |
| | | |
| Caroline Wise | Bethlehem | AA |
| Sarah Mattfeld | Catholic Cent. | AA |
| Lauren Filien | Columbia | AA |
| Ivian Owens | Niskayuna | AA |
| Talia Washington | Schenectady | AA |
| | | |
| Player | 7th Team | Class |
| | | |
| Yvonne Boyd | Albany | AA |
| Angelena Giuliano | Catholic Cent. | AA |
| Leah Phillips | Columbia | AA |
| Sole Carrington | Shaker | AA |
| K.J. Gordon | Shaker | AA |
| | | |
| Player | Honorable Mention | Class |
| Lanahria Whitaker | Albany | AA |
| Nevaeh House | Albany | AA |
| Nya Edmonds | Albany | AA |
| Samantha DeVito | Ballston Spa | AA |
| Emily Robbie | Ballston Spa | AA |
| Madysen Thomas | Ballston Spa | AA |
| Callie LaGoy | Ballston Spa | AA |
| Abby Teitsch | Ballston Spa | AA |
| Jesmain | Ballston Spa | AA |
| Ellie Cerf | Bethlehem | AA |
| Brenna Graber | Catholic Cent. | AA |
| Jayla Tyler | Colonie | AA |
| Isabella Franchi | Colonie | AA |
| Sophie Bissailon | Columbia | AA |
| Hannah Scarano | Columbia | AA |
| Renaya Kelly | Columbia | AA |
| Bella Gitto | Guilderland | AA |
| Graycen Dubin | Guilderland | AA |
| Shiya Hunter | Schenectady | AA |
| Janessa Jones | Schenectady | AA |
| Shylah Bigelow-Smith | Schenectady | AA |
| | | |
| --- | --- | --- |
| | Class A | |
| | | |
| Player | 1st Team | Class |
| | | |
| Kelsey Wood | Averill Park | A |
| Amelia Wood | Averill Park | A |
| Grace Field | Holy Names | A |
| Hailey Ballard | Queensbury | A |
| Jenalyse Alarcon | Troy | A |
| | | |
| Player | 2nd Team | Class |
| | | |
| Andie Gannon | Amsterdam | A |
| Antonia May | Amsterdam | A |
| Anna Jankovic | Averill Park | A |
| Brinley Inglee | Hudson Falls | A |
| Hope Sullivan | Queensbury | A |
| | | |
| Player | 3rd Team | Class |
| | | |
| Jackie Stanavich | Amsterdam | A |
| Emma Shields | Emma Willard | A |
| Breanna Lott | Mohonasen | A |
| Sydney Hart | South Glens Falls | A |
| Alaina Holmes | Troy | A |
| | | |
| Player | 4th Team | Class |
| | | |
| Michelina Lombardi | Averill Park | A |
| Callie Chevalier | Burnt Hills | A |
| Carlie Rzeszotarski | Burnt Hills | A |
| Abby Doin | Queensbury | A |
| Meghan O'Connor | Queensbury | A |
| | | |
| Player | 5th Team | Class |
| | | |
| Sydney Hoefs | Amsterdam | A |
| Molly Zahnleuter | Emma Willard | A |
| Hannah Breen | South Glens Falls | A |
| Jakaiya Dewer | Troy | A |
| Nadia Brown | Troy | A |
| | | |
| Player | 6th Team | Class |
| | | |
| Jamira Galloway | Albany Leadership | A |
| Cassandra Paul | Holy Names | A |
| Autumn Anderson | Lansingburgh | A |
| Cassidy Ray | Queensbury | A |
| Jazmyne Corker | Scotia | A |
| | | |
| Player | 7th Team | Class |
| | | |
| Grace O'Connor | Burnt Hills | A |
| Carly Szcezpantak | Burnt Hills | A |
| Lauren Ladopoulos | Holy Names | A |
| Hailey Reyes | Holy Names | A |
| Mikayla Varney | Hudson Falls | A |
| | | |
| Player | Honorable Mention | Class |
| R. Abdunafi | Albany Leadership | A |
| Jones | Albany Leadership | A |
| Izzy Adams | Burnt Hills | A |
| Ashley Shields | Emma Willard | A |
| Mia Farley | Holy Names | A |
| Samantha Paul | Holy Names | A |
| Madison Phillips | Hudson Falls | A |
| Tyina Thomas | Lansingburgh | A |
| Jada Rondon | Lansingburgh | A |
| Maya Rhoden | Lansingburgh | A |
| Paulina Siritori | Lansingburgh | A |
| Karlie Genevie | Lansingburgh | A |
| Ava Fasolino | Mohonasen | A |
| Jahddah Lennon | Mohonasen | A |
| Isabella Petrocci | Mohonasen | A |
| Megan Hart | Mohonasen | A |
| Megan Charnews | Scotia | A |
| Olivia Geniti | Scotia | A |
| Morgan Nichter | Scotia | A |
| Zoe Lanfear | South Glens Falls | A |
| Courtney Roberge | South Glens Falls | A |
| Hailey Breen | South Glens Falls | A |
| | | |
| --- | --- | --- |
| | Class B | |
| | | |
| Player | 1st Team | Class |
| | | |
| Molly Brophy | Greenwich | B |
| Logan Thayne | Hoosick Falls | B |
| Charli Goverski | Mechanicville | B |
| Avery Mills | Mekeel C.A. | B |
| Payton Graber | Schalmont | B |
| | | |
| Player | 2nd Team | Class |
| | | |
| Janay Brantley | Catskill | B |
| Abigail Lombardoni | Fonda | B |
| Madison Graham | ICC | B |
| Anna Lee | Johnstown | B |
| Mikyla Mitchell | Mekeel C.A. | B |
| | | |
| Player | 3rd Team | Class |
| | | |
| Arianna Myers | Cairo-Durham | B |
| Sabrina Pressley | Cobleskill | B |
| Jessica Meade | Cobleskill | B |
| Lauren Sanderson | Ravena | B |
| Karissa Antoine | Schalmont | B |
| | | |
| Player | 4th Team | Class |
| | | |
| Daja Beaufort | Hudson | B |
| Amy DiSiena | Mechanicville | B |
| Hannah VanDerzee | Ravena | B |
| Haley Burchhardt | Schalmont | B |
| Syrita Faraj | Tamarac | B |
| | | |
| Player | 5th Team | Class |
| | | |
| Aaliyah Juste | Albany Academy | B |
| Makenzie Smith | Broadalbin-Perth | B |
| Jaden Willson | Johnstown | B |
| AJ-Analda Joseph | Mechanicville | B |
| Jillian Ballard | Mekeel C.A. | B |
| | | |
| Player | 6th Team | Class |
| | | |
| Olivia Huneau | Cohoes | B |
| Kayla Smith | Fonda | B |
| Lexi Cutten | Glens Falls | B |
| Adrianna Rojas | Greenwich | B |
| Chloe Goverski | Mechanicville | B |
| | | |
| Player | 7th Team | Class |
| | | |
| Emma Osterhoudt | Cobleskill | B |
| Carly Atty | Fonda | B |
| Abby Vandewalker | Johnstown | B |
| Jada Brown | Mechanicville | B |
| Maraya Davis | Mekeel C.A. | B |
| | | |
| Player | Honorable Mention | Class |
| Meleena Ottati | Albany Academy | B |
| Erin Huban | Albany Academy | B |
| Marlee Ottati | Albany Academy | B |
| Caroline Burke | Albany Academy | B |
| Imperess McDowell | Bishop Maginn | B |
| Anderson | Bishop Maginn | B |
| Sarah Lukes | Bishop Maginn | B |
| Sturges | Bishop Maginn | B |
| Saiomi Willingham | Bishop Maginn | B |
| Emma Goebel | Broadalbin-Perth | B |
| Caroline Iannotti | Broadalbin-Perth | B |
| Lauralie Grainer | Broadalbin-Perth | B |
| Anna James | Cairo-Durham | B |
| McKayla Mudge | Cairo-Durham | B |
| Imani Walcott | Cairo-Durham | B |
| Hannah Konsul | Catskill | B |
| Aizlyn O'Connell | Catskill | B |
| Sara Leipman | Catskill | B |
| Kiana Salierno | Catskill | B |
| Eleesia Comino | Cobleskill | B |
| Madison Huneau | Cohoes | B |
| Quincy Hytko | Cohoes | B |
| Shauna Ferris | Cohoes | B |
| Maggie Saunders | Cohoes | B |
| Alexa Abbatantuono | Corinth | B |
| Maddie DeLisle | Corinth | B |
| Alex Carey | Corinth | B |
| Emily Dingman | Corinth | B |
| Miranda Dockum | Corinth | B |
| Anika Parnell | Corinth | B |
| Lyndsay Lombardoni | Fonda | B |
| Marilyn Whitcavitch | Fonda | B |
| Avery Cusack | Fonda | B |
| Ashley Bordeaux | Glens Falls | B |
| Haylee Girard | Glens Falls | B |
| Avery Hill | Glens Falls | B |
| Natalie Krasney | Greenville | B |
| Isabella Trostle | Greenville | B |
| Emily Duncan | Greenville | B |
| Lauren Rauf | Greenville | B |
| Caitlyn Silk | Greenville | B |
| Tess Merrill | Greenwich | B |
| Nora Niesz | Greenwich | B |
| Madeline Walker | Hoosick Falls | B |
| Marley McLellan | Hoosick Falls | B |
| Amber MacNeil | Hoosick Falls | B |
| Katie Jepsen | Hudson | B |
| Shayna Coopersmith | Hudson | B |
| Abby Jepsen | Hudson | B |
| Ashley Ames | ICC | B |
| Abigail Dolge | ICC | B |
| Delaney More | ICC | B |
| Malati Culver | ICC | B |
| Kanako Sasaki | Johnstown | B |
| Grace Engel | Ravena | B |
| Sara Hotaling | Ravena | B |
| Chesnie Waddingham | Ravena | B |
| Emily Lenehan | Schalmont | B |
| Macey Koval | Schuylerville | B |
| Eliza Barton | Schuylerville | B |
| Lauren King | Schuylerville | B |
| Molly Vianese | Schuylerville | B |
| Anya Vautrin | Schuylerville | B |
| Amanda Pflieger | Schuylerville | B |
| Marleah Perry | Taconic Hills | B |
| Kiersten Shumsky | Taconic Hills | B |
| Emily Mottoshiski | Taconic Hills | B |
| Macayla Sparacino | Taconic Hills | B |
| Marissa Kernan | Taconic Hills | B |
| Jordyn Sorel | Tamarac | B |
| Kate Machnick | Tamarac | B |
| Gabby Cellucci | Tamarac | B |
| Amia Maldonado | Watervliet | B |
| Leemya Garcia | Watervliet | B |
| Morgan Tambolleo | Watervliet | B |
| Brianna Joyner | Watervliet | B |
| Raynelle Davis | Watervliet | B |
| | | |
| --- | --- | --- |
| | Class C | |
| | | |
| Player | 1st Team | Class |
| | | |
| Alexis Wright | Berne-Knox | C |
| Sophie Phillips | Cambridge | C |
| Lilly Phillips | Cambridge | C |
| Madison Meyer | Duanesburg | C |
| Natasha Strock | Maple Hill | C |
| | | |
| Player | 2nd Team | Class |
| | | |
| Fiona Mooney | Cambridge | C |
| Allison O'Hanlon | Duanesburg | C |
| Sami Dickinson | Hoosic Valley | C |
| Marley Mueller | Stillwater | C |
| Abigail Ranous | Warrensburg | C |
| | | |
| Player | 3rd Team | Class |
| | | |
| Taylor Meacham | Berne-Knox | C |
| Stasia Epler | Cambridge | C |
| Sophia Chevrier | Maple Hill | C |
| Mechalle Cancer | Rensselaer | C |
| Hope Boland | Warrensburg | C |
| | | |
| Player | 4th Team | Class |
| | | |
| Sam Lanoue | Hoosic Valley | C |
| Ava Pushor | Lake George | C |
| Lindsey Hampton | Mayfield | C |
| Kelsey Meca | Mayfield | C |
| Aubrey Ranous | Warrensburg | C |
| | | |
| Player | 5th Team | Class |
| | | |
| McKayla McLenithan | Cambridge | C |
| Ruth Nolan | Cambridge | C |
| Jenna Hoffman | Maple Hill | C |
| Hannah Cater | Schoharie | C |
| Molly Sheehan | Stillwater | C |
| | | |
| Player | 6th Team | Class |
| | | |
| Aaliyah Stalker | Berlin-New Lebanon | C |
| Hannah Taylor | Chatham | C |
| Ashlyn Chartier | Hoosic Valley | C |
| Paige Bleau | Maple Hill | C |
| Karysn Berger | Maple Hill | C |
| | | |
| Player | 7th Team | Class |
| | | |
| Hannah Mulhern | Duanesburg | C |
| Alex Moses | Duanesburg | C |
| Mikayla Duffy | Lake George | C |
| Cloey Dopp | Mayfield | C |
| Mikayah Rushinski | Salem | C |
| | | |
| Player | Honorable Mention | Class |
| Emily Schafer | Berlin-New Lebanon | C |
| Brianna Shuhart | Berlin-New Lebanon | C |
| Grace Tymchyn | Berne-Knox | C |
| Reagan Smith | Berne-Knox | C |
| Monica Hartlieb | Canajoharie | C |
| Rickard | Canajoharie | C |
| Clark | Canajoharie | C |
| Victoria Adams | Canajoharie | C |
| Hailey Cascioli | Chatham | C |
| Naveah Daigle | Chatham | C |
| Paige Eaton | Chatham | C |
| Olivia Ruth | Duanesburg | C |
| Sarah Florian | Fort Plain | C |
| Erin Crouse | Fort Plain | C |
| Sarah Vanasse | Fort Plain | C |
| Tiffany Hazzard | Fort Plain | C |
| Ryan Ripepi | Galway | C |
| Julia Reedy | Galway | C |
| Morgan Drouin | Galway | C |
| Rachel Wnuk | Galway | C |
| Emma Spadaro | Galway | C |
| Madison Despres | Galway | C |
| Isabella Mancini | Galway | C |
| Bailey Phillips | Granville | C |
| Haley Corlew | Granville | C |
| Aspen Williams | Granville | C |
| Lexyss Zovistoski | Granville | C |
| Kayla Kenny | Hadley-Luzerne | C |
| Madison Lent | Hadley-Luzerne | C |
| Elaina Diamond | Hadley-Luzerne | C |
| Jordana Kenny | Hadley-Luzerne | C |
| Serena Goman | Hadley-Luzerne | C |
| Anna Jensen | Hoosic Valley | C |
| Emaleigh Peckham | Hoosic Valley | C |
| Mara Knoop | Lake George | C |
| Callie Haller | Maple Hill | C |
| Brianna Hubiak | Mayfield | C |
| Hallie Gasner | Middleburgh | C |
| Alyssa Wayman | Middleburgh | C |
| Gianna Bynum | Middleburgh | C |
| Morgan Schafroth | Middleburgh | C |
| Jasmine Allert | Rensselaer | C |
| Mackenzie Brown | Rensselaer | C |
| Arianna Vogel | Rensselaer | C |
| Jordan VanWie | Rensselaer | C |
| Mackenzie Spencer | Salem | C |
| Blake Riche | Salem | C |
| Amber Terry | Salem | C |
| Brianna Boyark | Salem | C |
| Alyssa Vangasbeck | Schoharie | C |
| Julie Lehoe | Schoharie | C |
| Haley Drinon | Schoharie | C |
| Brooke Pickett | Stillwater | C |
| Lily Zanello | Voorheesville | C |
| Jenny Bogart | Voorheesville | C |
| Cece Whalen | Voorheesville | C |
| Marissa Gifford | Voorheesville | C |
| Renee Bogdany | Voorheesville | C |
| Caroline Hunt | Voorheesville | C |
| Megan Romansky | Voorheesville | C |
| Sara Langworthy | Warrensburg | C |
| Tenisha Tyrell | Warrensburg | C |
| Olivia Frazier | Warrensburg | C |
| | | |
| --- | --- | --- |
| | Class D | |
| | | |
| Player | 1st Team | Class |
| | | |
| Shelby Caprood | Argyle | D |
| Gabby Thomas | Fort Edward | D |
| Riley Gibbons | Germantown | D |
| Karlee Nims | Hartford | D |
| Zoe Eggleston | Whitehall | D |
| | | |
| Player | 2nd Team | Class |
| | | |
| Sophia Bologna | Doane Stuart | D |
| Hailey Condon | Fort Edward | D |
| Merril Lewis | Hawthorne Valley | D |
| Jordan Ries | Heatly | D |
| Skyler Househoulder | Loudonville Christian | D |
| | | |
| Player | 3rd Team | Class |
| | | |
| Gabrielle McFarren | Hartford | D |
| Saige Randolph | NDBG | D |
| Ayanna Jackson | NDBG | D |
| Kerrigan Groff | Northville | D |
| Kyrie Smith | Whitehall | D |
| | | |
| Player | 4th Team | Class |
| | | |
| Sarah Paige | Fort Ann | D |
| Jennifer Mentzer | Hawthorne Valley | D |
| Nicole Buckman | North Warren | D |
| Brytney Moore | Northville | D |
| Ashley Upson | Saratoga Central Catholic | D |
| | | |
| Player | 5th Team | Class |
| | | |
| Caitlyn Mahoney | Fort Edward | D |
| Megan Dunn | Germantown | D |
| Abigail Monroe | Hartford | D |
| Kierra Hope | Heatly | D |
| Morgan Mackey | Northville | D |
| | | |
| Player | 6th Team | Class |
| | | |
| Lillianna Kingsley | Argyle | D |
| Morgan Fish | Fort Edward | D |
| Kierlan Denninger | Germantown | D |
| Meaghan Kienzle | NDBG | D |
| Kaitlin Kramar | North Warren | D |
| | | |
| Player | Honorable Mention | Class |
| Paige Cormie | Argyle | D |
| Bryanne Mattison | Argyle | D |
| Kylee Humiston | Argyle | D |
| Erica Liddle | Argyle | D |
| Katrina Catellier | Doane Stuart | D |
| Faith Lehoisky | Fort Ann | D |
| Aratare | Fort Ann | D |
| Mary Hernandez | Fort Ann | D |
| Gabriella Kholstinin | Fort Edward | D |
| Kaycee Hayes | Germantown | D |
| Jen Ljutich | Germantown | D |
| Izzy French | Hartford | D |
| Majel Udjate | Hawthorne Valley | D |
| Ayaka Suesada | Hawthorne Valley | D |
| Olivia Diaz | Heatly | D |
| Madilyn Zakrzewski | Heatly | D |
| Karleigh Seeloff | Heatly | D |
| Victoria Ralston | Loudonville Christian | D |
| Maggie Temple | Loudonville Christian | D |
| Abbey Woods | Loudonville Christian | D |
| Ryenne Relyea | NDBG | D |
| Ava Megyeri | NDBG | D |
| Jodi Bartlett | North Warren | D |
| Lauren Monroe | North Warren | D |
| Grace Forsey | Northville | D |
| Madelyn Buche | Northville | D |
| Jaycee Frasier | Northville | D |
| Rebecca Trumble | OESJ | D |
| Ashlee Shelmandine | OESJ | D |
| Shian Harman | OESJ | D |
| A. Klock | OESJ | D |
| A. Eggleston | OESJ | D |
| Dempsey | Saratoga Central Catholic | D |
| Lauren Maher | Saratoga Central Catholic | D |
| Molly O'Reilly | Saratoga Central Catholic | D |
| Katie Cronin | Saratoga Central Catholic | D |
| Madi Gould | Whitehall | D |