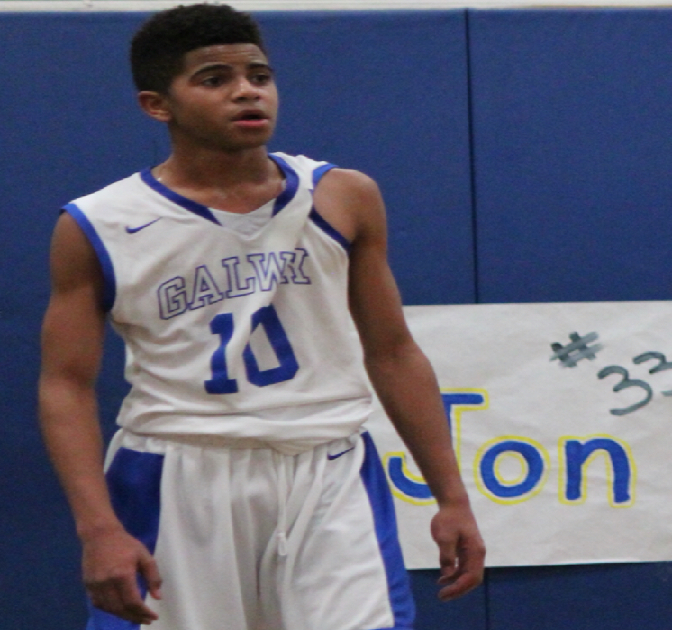 Name:
Thor White
School:
Galway High School
Year in School:
Junior
Height:
6'1
Position:
Point guard
Current season stats or team record:
18 PPG
Basketball Awards or Achievements:
I set a school record for the most threes made in one game which was 10.
Summer basketball team:
Capital City Lightning
Favorite class in school other than lunch or gym?
My favorite class in school, would be history. Learning about the past is really interesting to me.
What are your plans after High School?
My plans after high school is to go to college. I plan to major in criminal justice.
Do you plan on playing sports in college? If yes, which sport and have you committed yet to a school?
Yes, I plan on playing basketball in college.
What are your strengths as a player?
My strengths as a player would be scoring, and shooting the ball.
What skills do you need to improve on as a player?
There is always room for improvement. One thing I could really work on is becoming a
better defender.
What improvements have you made recently in practice/training?
I've been getting to the hoop a lot more. Last year, I was primarily relying on my shooting to get the job done. I have become an all around scorer.
Favorite moment on the court:
My favorite moment on the court was when my friend and teammate Quinn Smith made a half court shot off of my assist. It was nice to see him make that, it definitely got us all excited.
Toughest moment on the court:
The toughest moment on the court for me, was losing to Mayfield by one point earlier this season. Although, it was a really fun game and both teams fought hard.
What have you learned about team work?
I learned that team work is very important. When there is team work, it makes everyone one want to work hard and succeed.
Name a couple of people that have been role models over the years and what have you learned from them?
My parents have been my role models, they have taught me that hard work will always
pay off. Coach Kennedy has been a role model as well, he is a great coach.
What words of advice or encouragement would you share with younger athletes?
Working hard will go a long way, try to stay in the gym for as long as you can.
What is your favorite team activity, pregame or postgame,that you share with your teammates?
My favorite pregame activity would be talking to my teammates in the locker room before our games. These memories will last a lifetime.
How crazy are your school's fans?
My school's fans are always into the games, and cheering for us. We really appreciate them a lot.
What is a typical day like for you?
A typical day for me is going to class all day, then coming home to eat and do my homework. After this is done, I have to go to practice.
What are your interests outside of sports?
I'm interested in criminal justice.
Favorite food:
Pizza
Favorite song/artist:
Hype,Drake
What's your favorite old school jam?
Jump by Kriss Kross
What are your favorite movies or books?
My favorite movies are Space Jam, and He Got Game.
Who is your favorite athlete (Any sport)?
My favorite athlete is Kobe Bryant.
Favorite NCAA, NBA or WNBA team:
Syarcuse, and the Lakers.
If you could have dinner with anyone who would it be?
I would like to have dinner with Kobe Bryant to learn more about the game from him.
Anything else that you'd like to share about yourself, your family or team:
I like to play basketball, and hangout with friends. I really enjoy playing basketball with my teammates, it's a lot of fun to me.