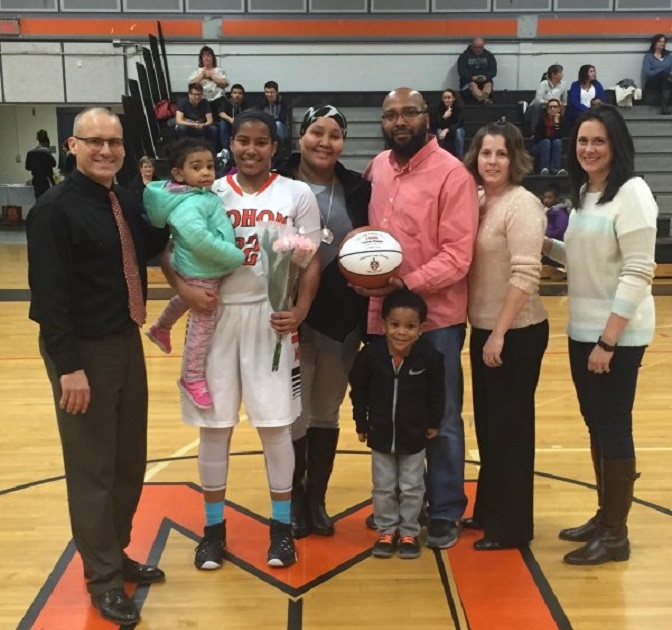 Name:
Saeeda Abdul-Aziz
School:
Mohonasen High School
Year in School:
2013-2017
Height:
5 Foot 11 inches
Position:
Guard/Forward
Current season stats or team record:
18.3 pts, 15 rebs, 4 blks, 3 assist
Basketball Awards or Achievements:
McDonald's All-American Nominee 2016-17
5 Year varsity basketball starter and Letter winner
All Time Leading Scorer male or female at 1500+ and counting
1,000 plus rebounds and counting
Section 2 Class A All Tournament Player 2013
Section 2 Class A Rookie of the Year 2012-13 (8th Grade year)
Section 2 Class A Suburban Council Second Team All Star (2013-14)
Schenectady Gazette Third Team All- Area (2013-14)
Section 2 Class A Suburban Council First Team All Star (2014-15)
Schenectady Gazette Second Team All- Area (2014-15)
Times Union Second Team All -Area (2014-15)
NYSPHAA (New York State Public High School Athletic Association)
Honorable Mention Team
Section 2 Class A Suburban Council First Team All Star (2015-16)
Schenectady Gazette First Team All- Area (2015-16)
Times Union First Team All-Area (2015-16)
NYSPHAA Third Team All State 205-16
Channel News 13 Basketball All-Star 2015-16
Preseason Section 2 Class A & Suburban Council Player of the Year
Nominee 2016-17
New York State Public High School Top 10 Senior 2016-17
Nike EYBL player 2014-16
Other sports you play in High School:
Varsity Soccer 2012-2014
Summer basketball team:
Exodus Nike EYBL
Favorite class in school other than lunch or gym?
History
What are your plans after High School?
Will be attending Davidson College on a full basketball scholarship.
Do you plan on playing sports in college? If yes, which sport and have you committed yet to a school?
I committed to play basketball on a full athletic scholarship at Davidson College.
What are your strengths as a player?
My strengths as a player are: shooting, driving to the basket and my defense. I really take pride in playing defense.
What skills do you need to improve on as a player?
I need to improve my dribbling and becoming a knock down shooter.
What improvements have you made recently in practice/training?
I tore my knee back in April of 2016 and I'm just getting my strength and endurance back.
Favorite moment on the court:
I have a few: My first basket as an 8th grader, beating troy last year, scoring my 1000th point, breaking the All Time scoring record at 1336 but I would like to say it was playing Nike Nationals with my Exodus teammates.
Toughest moment on the court:
I really hate losing so I will have to say all of my loses are my toughest moments. I really beat myself up over them knowing that I can do better.
What have you learned about team work?
You really have work at it if you want to be successful. All of our egos need to be checked at the door in order for us to truly become a team.
Name a couple of people that have been role models over the years and what have you learned from them?
I look at my younger brother, Jalani, as a role model because of all he has been through medically he hasn't given up. It has been tough on me this year playing with a torn knee
and at times I wanted to give up but I just look at him and suck it up.
What words of advice or encouragement would you share with younger athletes?
Work hard on the court and work harder in the classroom.
What is your favorite team activity, pregame or postgame,that you share with your teammates?
We do pregame rap sing along's; we really love it.
How crazy are your school's fans?
I don't know about the fans but my parents are a bit crazy. LOL
What team do you want to beat to win the Sectional Final or other tournaments this year?
I don't care what team we beat, I just want to WIN.
What are your interests outside of sports?
I just like to hang out with friends and chill out whenever I get the chance.
Favorite song/artist:
A Boogie
What's your favorite old school jam?
This Women's Work by Maxwell
Who is your favorite athlete (Any sport)?
Maya Moore, WNBA.