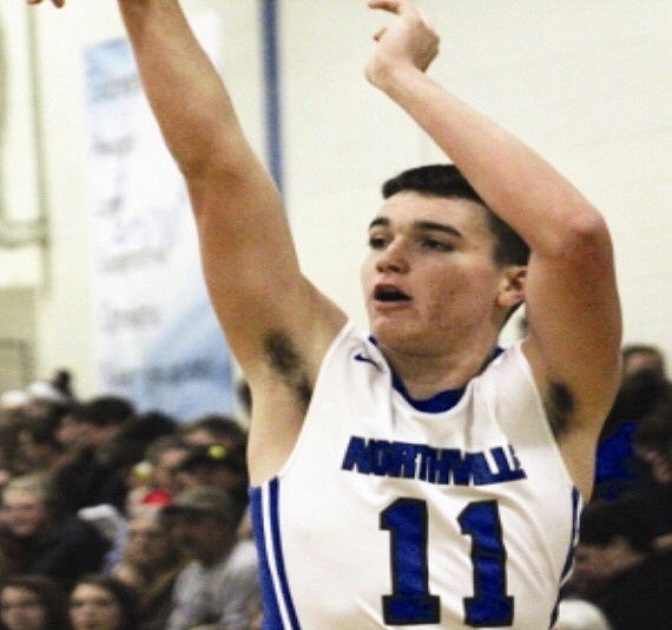 Name:
Danny Reidell
School:
Northville High School
Year in School:
Senior
Height:
6'2
Position:
Point Guard
Current season stats or team record:
22.7 PPG 9.4 AST 8 REB 45 threes 11-5 record
Basketball Awards or Achievements:
1000 Point Scorer
1514 career points and counting
2x all state
2x first team all league
First Team all area Recorder
Other sports you play in High School:
Soccer
Favorite moment from non-basketball sport:
Playing in 2 sectional championships in Soccer.
Summer basketball team:
Capital City Lightning
Favorite class in school other than lunch or gym?
Calculus
What are your plans after High School?
Attend college studying either business with finance or law school.
Do you plan on playing sports in college? If yes, which sport and have you committed yet to a school?
I plan on playing basketball in college, but have yet to decide where I will be playing.
What are your strengths as a player?
I can be a pass first player, I love to win, and I always feel like I am step ahead with great vision.
What skills do you need to improve on as a player?
There's always room to improve defensively, and get my handle as tight as possible.
What improvements have you made recently in practice/training?
Restructuring my jumpshot in the last 2 years was tedious work. My trainer and I did a week of workouts without me even shooting a ball, just working on footwork and form. I have become stronger and quicker as well.
Favorite moment on the court:
Scoring my 1000 point last year in front of my fans, they are great.
Favorite team moment was Beating Mayfield on the road, all the reporters were talking about how good they were, and we went to their place and beat them by 14.
Toughest moment on the court:
My friend Mike Kalkbrenner broke his collarbone this year, he was a key part of our team. But he is making great strides to get back and he should be back for our last regular season game.
What have you learned about team work?
The best thing I have learned is I matter what, if you as team have goals, you need to
realize what you can do and do it to the full extent. Pulling your weight in every way possible, and picking up your teammates when you have to.
Name a couple of people that have been role models over the years and what have you learned from them?
-My Dad, helps push me a lot.
-Mom and Grandma
-Harley Fuller-spends countless hours with me in the gym
-Mike Philo- always knows what to say, also comes works out with me,
and has unlimited knowledge
-My Coach Karbowski- always helping me with college coaches and
providing me with better opportunities
-My AAU coaches, John Killian and Eric Fluty taught me how to be apart
of something bigger and how to think on the court in a different way.
What words of advice or encouragement would you share with younger athletes?
No matter what sport you pursue, or anything really, if you want something go get it
you need to work everyday.
Do you have a saying or motto that you live your life by or maybe a team slogan?
Working hard is my slogan, not too specific, but you get the meaning.
What is your favorite team activity, pregame or postgame,that you share with your teammates?
We always listen to music no matter where we are, our friend Dan always is playing music on my speaker. We usually play touch football before practice in the gym believe it
or not, we have grown really close this season.
How crazy are your school's fans?
Our student body is small, but it always seems like everyone is there. Our community is
always supporting us, I feel like I can't go anywhere in Northville without somebody talking to me about basketball.
What team do you want to beat to win the Sectional Final or other tournaments this year?
We hopefully want the opportunity just to win a sectional title, and we believe we are
capable, and we will play anyone we have to. I don't think we should be scared of anyone.
What is a typical day like for you?
A school day I usually go through school til 3 and then practice til 5.
On a weekend I will wake up early and go to the gym for 2 hours and work on what I feel like I need to. Then I usually work Saturday nights.
What are your interests outside of sports?
I love being outdoors and hiking and spending time on The Great Sacandaga, the lake in
Northville.
Favorite food:
Buffalo Chicken anything
Favorite local restaurant?
Klippels or Timeless Tavern
Favorite song/artist:
Drake
What's your favorite old school jam?
All star by Smash mouth. Is that old school?
What are your favorite movies or books?
Coach Carter
Who is your favorite athlete (Any sport)?
Klay Thomson, he scored 60 on 11 dribbles annd Miami Heat Dwayne Wade.
Favorite NCAA, NBA or WNBA team:
Biggest Duke basketball fan
If you could have dinner with anyone who would it be?
Coach K
Anything else that you'd like to share about yourself, your family or team:
We can really do some damage this year in sectionals.