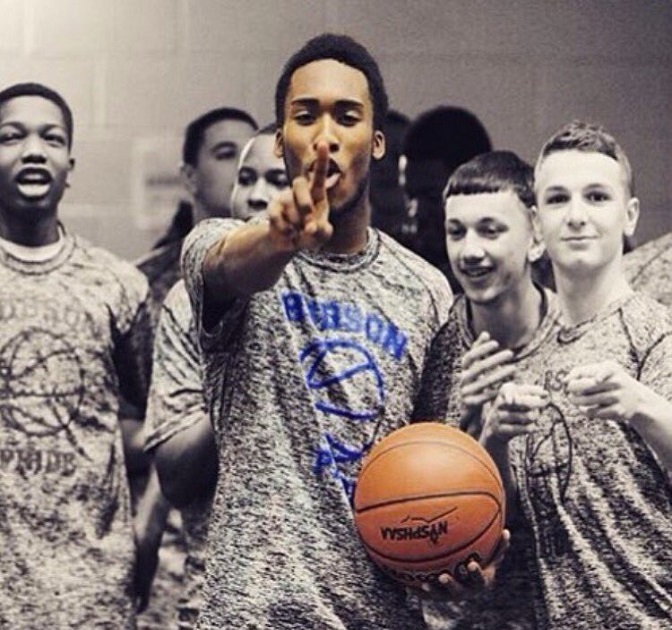 Name:
Mike Alert
School:
Hudson High School
Year in School:
2017
Height:
6'0
Position:
Point Guard
Current season stats or team record:
11-2
Basketball Awards or Achievements:
5th Team All State, RCS MVP, Won Sectionals, State Final Four Contender, 1st Team
Small School, All Tournament Team
Other sports you play in High School:
Football
Favorite moment from non-basketball sport:
Going undefeated in the Reinford Division for football and going to the Super Bowl.
Summer basketball team:
Dream To Achieve
Favorite class in school other than lunch or gym?
My favorite Class is Sociology because I'm learning about human society.
What are your plans after High School?
Go to school for business learn the ways of running a big corporation and start my own.
Do you plan on playing sports in college? If yes, which sport and have you committed yet to a school?
I plan on playing basketball in College and I'm not committed to a school yet.
What are your strengths as a player?
My biggest strengths are my quickness, my mid range shot and my on ball defense
What skills do you need to improve on as a player?
I can improve going left and my outside shot.
What improvements have you made recently in practice/training?
I practice going 110% so the games are easier and slower and one thing I really have been doing is going to the weight room to get stronger.
Favorite moment on the court:
Stealing the ball from Joe Girard at mid court.
Toughest moment on the court:
Guarding Joe Girard and fighting through all their screens.
What have you learned about team work?
In order to go far everybody has to work together and everyone has a specific role.
Once everyone knows it, the sky is the limit.
Name a couple of people that have been role models over the years and what have you learned from them?
-My brothers they taught me to be tough and to never give up.
-My mother taught me to look for the good in bad situations and to not
stress over unnecessary things.
-Michelle Nowak taught me to always have fun
-Vern Cross taught me to put myself out there and that the only way I can get to where I wanna be is to work harder than everyone else.
What words of advice or encouragement would you share with younger athletes?
Never let anyone shoot yah dreams down because anything is possible you just have to
work for it!
Do you have a saying or motto that you live your life by or maybe a team slogan?
Before every game I say " Yah already know what to do, so let's do this"
What is your favorite team activity, pregame or postgame,that you share with your teammates?
Before games my team just listens to music and we crack on each other.
How crazy are your school's fans?
I honestly don't know how they don't get kicked out because the stuff they say gets the other team so mad to the point where they wanna fight.
What team do you want to beat to win the Sectional Final or other tournaments this year?
I want to play Glens Falls and vs Girard!
What is a typical day like for you?
Just chilling with my friends making music or playing basketball.
What are your interests outside of sports?
I like to be involved in my community as much as I can.
Favorite food:
Curry Chicken and Roti
Favorite local restaurant?
Wunderbar
Favorite song/artist:
A Boogie, I'm Not A Regular Person
What's your favorite old school jam?
Step in the Name of Love. R Kelly
What are your favorite movies or books?
Gridiron Gang is my favorite movie and Black and White is my favorite book
Who is your favorite athlete (Any sport)?
Damian Lillard
Favorite NCAA, NBA or WNBA team:
Kansas Jayhawks, Portland Trail Blazers
If you could have dinner with anyone who would it be?
Zendaya
Anything else that you'd like to share about yourself, your family or team:
I've never been the strongest or the tallest but my will to win is something a lot of people don't have!