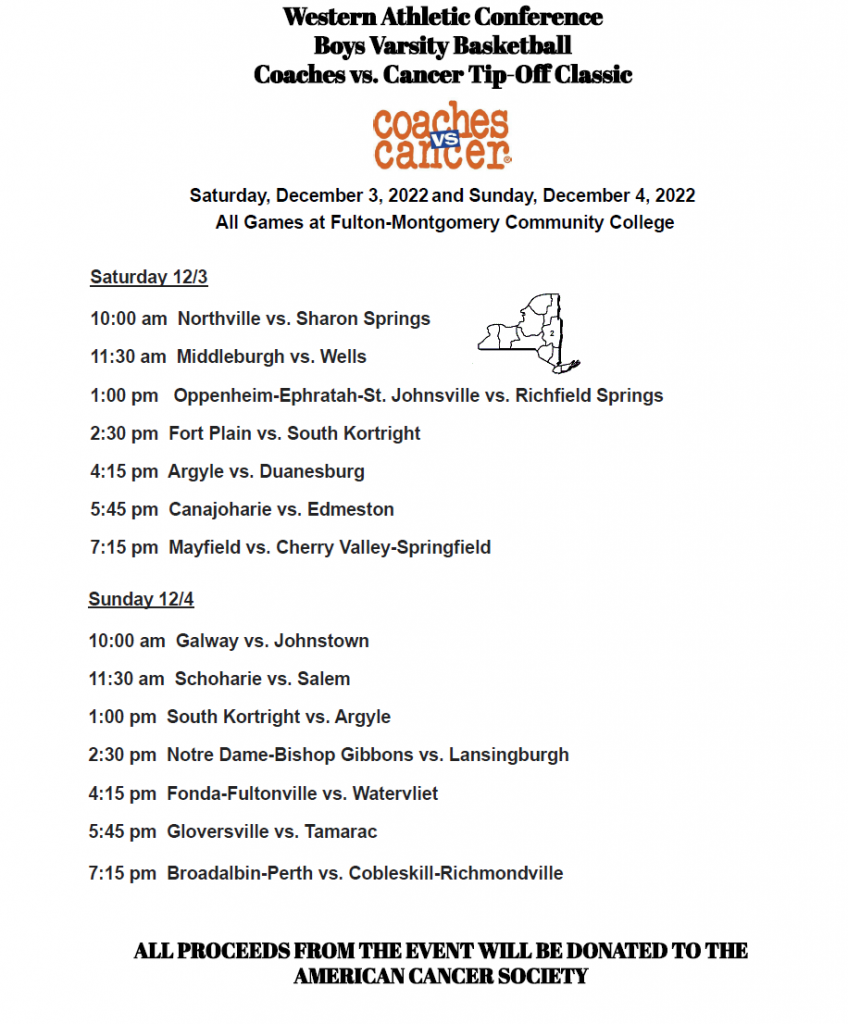 Coaches vs. Cancer Tip-Off Classic
On Saturday, December 3rd and Sunday, December 4th the Western Athletic Conference will be sponsoring a Coaches vs. Cancer Tip-Off Classic fundraiser at Fulton-Montgomery Community College. This is the 9th consecutive year we have held this event (minus the 2020-2021 school year due to the pandemic) and we are looking forward to a record number of high schools participating. During the past three full seasons alone, we have raised over $12,000 for the American Cancer Society.
This year's two day event will feature 14 Boys Varsity High School Basketball games. The following schools are scheduled to participate: Northville, Sharon Springs, Wells, Middleburgh, Richfield Springs, Oppenheim-Ephratah-St. Johnsville, Fort Plain, South Kortright, Argyle, Duanesburg, Canajoharie, Edmeston, Mayfield, Cherry Valley-Springfield, Galway, Johnstown, Schoharie, Salem, Notre Dame-Bishop Gibbons, Lansingburgh, Fonda-Fultonville, Watervliet, Gloversville, Tamarac, Broadalbin-Perth, and Cobleskill-Richmondville.
They will also be holding a raffle during the event for various items donated by the community.  All proceeds from the event will be donated to the American Cancer Society.  We anticipate big crowds this year due to many larger schools agreeing to participate but we are still looking to maximize the number of people in attendance however we can.