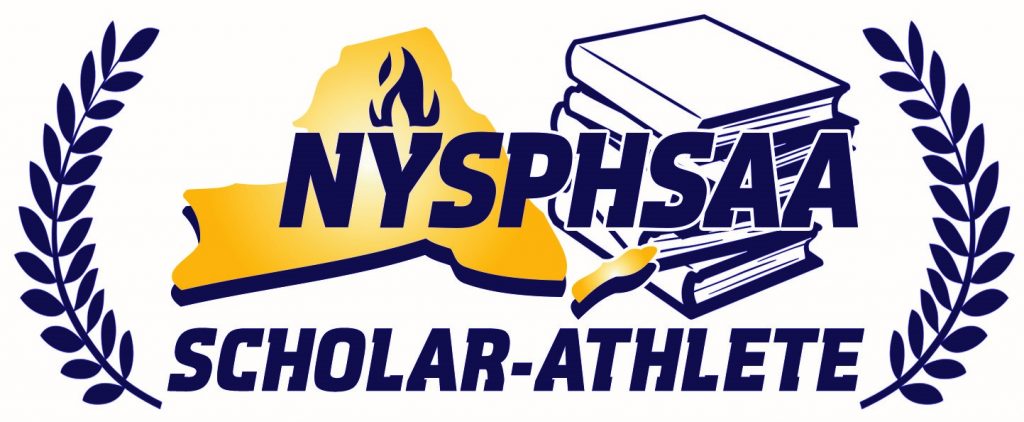 At the end of each sports season, the NYSPHSAA honors those teams and individuals that excel in the classroom. Those student-athletes, teams, and schools work very hard throughout the year and deserve to be recognized for their academic success.  
To receive Scholar-Athlete team recognition with a certificate, the team's average GPA for 75% of the roster must be greater than or equal to 90.00. This means you take 75% of your roster and then average their GPAs.
Section 2 basketball teams that have quailified for the 2021-22 season. Below the list of teams is the PDF with all of the teams in the state that qualified. You can scroll through that page by page.
Section 2 Boys Basketball
Ballston Spa Senior High School
Berne-Knox-Westerlo Jr/Sr High School
Bethlehem Central Senior High School
Broadalbin-Perth High School
Burnt Hills-Ballston Lake Sr High School
Cairo-Durham High School
Cambridge Jr/Sr High School
Chatham High School
Christian Brothers Academy
Cohoes High School
Colonie Central High School
Columbia High School
Coxsackie-Athens High School
Duanesburg High School
Fonda-Fultonville Senior High School
Fort Edward School
Fort Plain Jr/Sr High School
Galway Jr/Sr High School
Germantown Jr/Sr High School
Glens Falls Senior High School
Greenville High School
Guilderland High School
Hawthorne Valley School
Hoosic Valley Senior High School
Hoosick Falls Jr/Sr High School
Hudson Falls High School
Ichabod Crane Senior High School
Lake George Jr/Sr High School
Maple Hill High School
Mayfield Jr/Sr High School
Mechanicville Jr/Sr High School
Mekeel Christian Academy
Niskayuna High School
Queensbury Senior High School
Saratoga Central Catholic High School
Saratoga Springs High School
Schoharie High School
Schuylerville High School
Scotia-Glenville Senior High School
Shenendehowa High School
South Glens Falls Senior High School
Stillwater Middle School High School
Taconic Hills Jr/Sr High School
Tamarac Middle/High School
Warrensburg Jr/Sr High School
Waterford-Halfmoon Jr/Sr High School
Section 2 Girls Basketball
Amsterdam High School
Averill Park High School
Ballston Spa Senior High School
Berne-Knox-Westerlo Jr/Sr High School
Bethlehem Central Senior High School
Bolton Central School
Broadalbin-Perth High School
Burnt Hills-Ballston Lake Sr High School
Cairo-Durham High School
Cambridge Jr/Sr High School
Chatham High School
Cobleskill-Richmondville High School
Cohoes High School
Colonie Central High School
Columbia High School
Coxsackie-Athens High School
Duanesburg High School
Fonda-Fultonville Senior High School
Fort Plain Jr/Sr High School
Galway Jr/Sr High School
Germantown Jr/Sr High School
Glens Falls Senior High School
Gloversville High School
Greenville High School
Greenwich Jr/Sr High School
Guilderland High School
Hadley-Luzerne High School
Hartford Central School
Hoosic Valley Senior High School
Hoosick Falls Jr/Sr High School
Hudson Falls High School
Ichabod Crane Senior High School
Johnstown Senior High School
Lake George Jr/Sr High School
Maple Hill High School
Mayfield Jr/Sr High School
Mechanicville Jr/Sr High School
Mekeel Christian Academy
Middleburgh High School
Niskayuna High School
North Warren Central School
Queensbury Senior High School
Rensselaer Jr/Sr High School
Salem High School
Saratoga Central Catholic High School
Saratoga Springs High School
Schoharie High School
Schuylerville High School
Scotia-Glenville Senior High School
Shaker High School
Shenendehowa High School
South Glens Falls Senior High School
Stillwater Middle School High School
Taconic Hills Jr/Sr High School
Tamarac Middle/High School
The Albany Academies
Troy High School
Warrensburg Jr/Sr High School
Waterford-Halfmoon Jr/Sr High School
Watervliet Jr/Sr High School
Whitehall Jr-Sr High School
Winter_2022_Scholar_Athlete_Teams