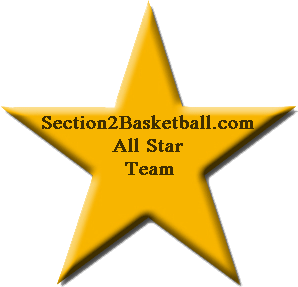 The All-Star teams are broken down by classifications (AA, A, B, C, & D) for this year's players.  After covering a bunch of full games this season, and watching countless hours of film, I've seen many of the players listed below. For the player's that I haven't watched in person I've relied on contacts in Section 2, other online content/stats/reports, game film, and custom player rankings that I've created.
What I've tried to do for the custom computer-generated player rankings is create something that will take into account a player's scoring, his team's overall performance, and factor in the percentage of his points versus his team's total point total. Point statistics were used from timesunion.com to compile those numbers. With limited other stats available online (rebounds, steals, assists, etc.) I feel this is the best way to construct the rankings as it factors in overall team performance too.
Past computer player rankings, created for Section 2, have been in line with the top players in the Section as well as players that have moved on to play at the next level. In other words, I trust them as an independent opinion differing from my eyes and other research. All 3 (eyes, rankings, research) are factored in when creating the teams below.
(Players that scored around 10% or more of their team's total points were ranked and considered for the teams. Over 400+ players fit the criteria. I also know that I've left off really good players. I've done the best I could when comparing a player's impact on their team and factoring in their overall team strength.)
---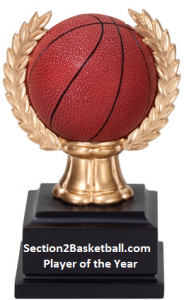 Player of the Year
Joseph Girard III, Glens Falls
This year's boys Player of the Year award goes to Joseph Girard III of Glens Falls. The Syracuse bound senior forward once again accumulated over 1,000 points this season and has scored over 4,500 for his career. He's helped lead his team to a Section 2 title and the Indians are currently in the NYSPHSAA Final Four.
—————————————————————————————————————–
For each of the teams below the players are listed alphabetically by team. They aren't ranked in any specific order for their specific set of 5 players. 6 teams for each Class AA & A. 7 teams for Class B, C, & D.
To view video clips of the players from our custom team/player highlight pages, go HERE. (Pick Division/League & team. Click on a player name on any clip and it will take you to their own page with their own custom link to share. Many of the players listed below have highlights in the system over the last three seasons.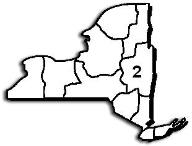 All Star Teams
| | | |
| --- | --- | --- |
| | Class AA | |
| | | |
| Player | 1st Team | Class |
| | | |
| Michael Ortale | Bethlehem | AA |
| Jordan King | CBA | AA |
| Aidan Holmes | Saratoga Springs | AA |
| Nate Chudy | Saratoga Springs | AA |
| Jake Reinisch | Shenendehowa | AA |
| | | |
| Player | 2nd Team | Class |
| | | |
| Drew Signor | CBA | AA |
| Aaron Satin | Colonie | AA |
| Kemore Johnson | Green Tech | AA |
| Will Fox | Saratoga Springs | AA |
| T.J. Sangare | Shenendehowa | AA |
| | | |
| Player | 3rd Team | Class |
| | | |
| Erik Salo | Bethlehem | AA |
| Marcus Shelton | Colonie | AA |
| Dylan Ouimette | Columbia | AA |
| Joshua Rodriguez | Green Tech | AA |
| Nick Benton | Niskayuna | AA |
| | | |
| Player | 4th Team | Class |
| | | |
| Michael Alamo-Benitez | Albany | AA |
| Peter O'Toole | CBA | AA |
| Alex Adams | Columbia | AA |
| Connor Cepiel | La Salle | AA |
| James Altenburger | Shenendehowa | AA |
| | | |
| Player | 5th Team | Class |
| | | |
| Tye-Rell Monroe | Albany | AA |
| Justin Barnes | Bethlehem | AA |
| Cooper Zwanka | Columbia | AA |
| Ryan Teaney | Guilderland | AA |
| Richie Quinn | Niskayuna | AA |
| | | |
| Player | 6th Team | Class |
| | | |
| Jake Laclair | Bethlehem | AA |
| Brendan Coyle | Colonie | AA |
| Michael Rogan | Saratoga Springs | AA |
| Kareem Sanders | Schenectady | AA |
| Trey Mariano | Shaker | AA |
| | | |
| | Class A | |
| | | |
| Player | 1st Team | Class |
| | | |
| August Mahoney | Albany Academy | A |
| Andre Jackson | Albany Academy | A |
| Rob Brown | Albany Academy | A |
| Ozzy DeJesus | Mekeel Christian Academy | A |
| Nazaire Merritt | Troy | A |
| | | |
| Player | 2nd Team | Class |
| | | |
| Zach Price | Averill Park | A |
| Dante Bouchard | Gloversville | A |
| Joseph Rowback | Gloversville | A |
| Duncan Tallman | Mohonasen | A |
| Latyce Faison | Troy | A |
| | | |
| Player | 3rd Team | Class |
| | | |
| Keegan Zoller | Ballston Spa | A |
| Luke Alteri | Ballston Spa | A |
| Trevor Green | Lansingburgh | A |
| Isaiah Knight | Lansingburgh | A |
| Alex Barnhill | Mekeel Christian Academy | A |
| | | |
| Player | 4th Team | Class |
| | | |
| Jack Wyatt | Burnt Hills | A |
| Jackson Brown | Catholic Central | A |
| Chase Monroe | Mohonasen | A |
| Andrew LeMorta | Scotia | A |
| Lateef Johnson | Troy | A |
| | | |
| Player | 5th Team | Class |
| | | |
| Thomas Hacker | Averill Park | A |
| Avery Pascucci | Averill Park | A |
| Vinny Tario | Lansingburgh | A |
| Shawn Gillisslee | Mohonasen | A |
| Bryce Bleibtrey | Queensbury | A |
| | | |
| Player | 6th Team | Class |
| | | |
| Treylan Cortina | Bishop Maginn | A |
| Julien Deumaga | Gloversville | A |
| Matthew Chase | Queensbury | A |
| Kevin Amberger | South Glens Falls | A |
| Jon Maniacek | South Glens Falls | A |
| | | |
| | Class B | |
| | | |
| Player | 1st Team | Class |
| | | |
| Justice Brantley | Catskill | B |
| Jackson Atty | Fonda | B |
| Joseph Girard III | Glens Falls | B |
| Shane O'Dell | Schalmont | B |
| Messiah Mallory | Watervliet | B |
| | | |
| Player | 2nd Team | Class |
| | | |
| Lavon Fernandez | Hudson | B |
| Matthew Boyle | Johnstown | B |
| LJ Randle | Schalmont | B |
| Derrick Beason | Watervliet | B |
| J.J. Chestnut | Watervliet | B |
| | | |
| Player | 3rd Team | Class |
| | | |
| Devon Haye | Catskill | B |
| Donovan Pacatte | Cobleskill | B |
| Trenton Girard | Glens Falls | B |
| Christian Pesano | Ichabod Crane | B |
| Nick Budesheim | Schuylerville | B |
| | | |
| Player | 4th Team | Class |
| | | |
| Nick Danahy | Glens Falls | B |
| Dayquan Griffin | Hudson | B |
| Nick Boyd | Schalmont | B |
| Stratton Sherman | Schuylerville | B |
| Khari Croley | Watervliet | B |
| | | |
| Player | 5th Team | Class |
| | | |
| Rodney Parker | Bishop Gibbons | B |
| Johnathan Beagle | Hudson Falls | B |
| Cayten Rutland | Schuylerville | B |
| Paul Harshbarger | Schuylerville | B |
| Joe Saia | Voorheesville | B |
| | | |
| Player | 6th Team | Class |
| | | |
| Noah Foster | Bishop Gibbons | B |
| Todd Williamson | Bishop Gibbons | B |
| Louis Laregina | Cairo-Durham | B |
| Gil Bell | Coxsackie-Athens | B |
| C.J. Bianchino | Ravena | B |
| | | |
| Player | 7th Team | Class |
| | | |
| Dante Calderone | Broadalbin-Perth | B |
| Damien Fiducia | Greenville | B |
| Riley Maddison | Hudson Falls | B |
| Ethan Wager | Johnstown | B |
| Devin Garland | Mechanicville | B |
| Frank Zotto | Tamarac | B |
| | | |
| | Class C | |
| | | |
| Player | 1st Team | Class |
| | | |
| Jon Kempf | Hoosick Falls | C |
| Chris Becker | Lake George | C |
| Mason Flatley | Lake George | C |
| Nate Mannion | Maple Hill | C |
| Garrett Delaney | Mayfield | C |
| | | |
| Player | 2nd Team | Class |
| | | |
| Luke VanSlyke | Canajoharie | C |
| JayShawn Williams | Chatham | C |
| Jarett Williams | Granville | C |
| Tristan Williams | Hoosick Falls | C |
| Trevon Gifford | Mayfield | C |
| | | |
| Player | 3rd Team | Class |
| | | |
| Zeke Pulliam | Berne-Knox | C |
| Keon Armstrong | Chatham | C |
| Danny McMahon | Hadley-Luzerne | C |
| Max Kipp | Hoosick Falls | C |
| Connor Vidnansky | Lake George | C |
| | | |
| Player | 4th Team | Class |
| | | |
| Jaxson Yacowenia | Fort Plain | C |
| John Walsh | Greenwich | C |
| Rian Jewett | Maple Hill | C |
| Brian McNeil | Stillwater | C |
| Evan MacDuff | Warrensburg | C |
| | | |
| Player | 5th Team | Class |
| | | |
| Luke Pelchar | Lake George | C |
| Tyler Hanrahan | Maple Hill | C |
| Shane Helmstadt | Schoharie | C |
| Bobby Valigorski | Waterford | C |
| Michael Talavera | Waterford | C |
| | | |
| Player | 6th Team | Class |
| | | |
| Kaleb Taylor | Chatham | C |
| Josh Oakman | Granville | C |
| Isaac Carlo | Hoosic Valley | C |
| Alex Leonelli | Lake George | C |
| Evan Kulpa | Maple Hill | C |
| | | |
| Player | 7th Team | Class |
| | | |
| Jacob Stahl | Duanesburg | C |
| TJ Wilson | Granville | C |
| Nick Sumner | Granville | C |
| Quinn Pratico |  Maple Hill | C |
| Evan Lehr |  Mayfield | C |
| Andrew Johns |  Middleburgh | C |
| | | |
| | Class D | |
| | | |
| Player | 1st Team | Class |
| | | |
| Peyton Lufkin | Argyle | D |
| Luke Loso | Fort Ann | D |
| Bryan Bathrick | Germantown | D |
| Clayton Erickson | New Lebanon | D |
| Tyler Leon | OESJ | D |
| | | |
| Player | 2nd Team | Class |
| | | |
| Dylan Frost | Fort Ann | D |
| Gavon Darfler | Hartford | D |
| Anthony Girard | North Warren | D |
| Travis Lafountain | OESJ | D |
| Jack Brundage | OESJ | D |
| | | |
| Player | 3rd Team | Class |
| | | |
| Sawyer Lunt | Fort Ann | D |
| Robbie Eaton | Germantown | D |
| Christopher Davis | Hawthorne Valley | D |
| T.J. Wadsworth | Northville | D |
| Nate Reidell | Northville | D |
| | | |
| Player | 4th Team | Class |
| | | |
| Brendan Wright | Fort Ann | D |
| Brandon Harrington | Hartford | D |
| Tyler Price | New Lebanon | D |
| Tanner Dunkley | North Warren | D |
| Jason Ellsworth | Northville | D |
| | | |
| Player | 5th Team | Class |
| | | |
| Caide Flanders | Argyle | D |
| Gabe Wood | Argyle | D |
| Dan Kellenbenz | Germantown | D |
| Lucas Casey | Hartford | D |
| Jaedyn Logan-Dillenbeck | OESJ | D |
| | | |
| Player | 6th Team | Class |
| | | |
| Ritchie Jones | Fort Ann | D |
| John Drisbow | Hawthorne Valley | D |
| Sam Provencher | Loudonville Christian | D |
| Reece Bradley | North Warren | D |
| Austin Barnao | Whitehall | D |
| | | |
| Player | 7th Team | Class |
| | | |
| Abe Gordons | Doane Stuart | D |
| Kyle Jakovic | Doane Stuart | D |
| Rick Boyd | Heatly | D |
| Darius Moore | Heatly | D |
| Noah Rogers | Loudonville Christian | D |