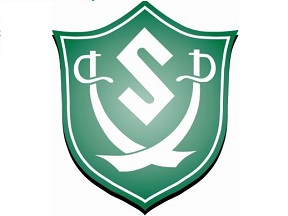 The early season success of the Schalmont boys basketball team is showing all of Section 2 that the Sabres are serious contenders to capture the 2018-19 Class B Sectional crown. The Sabres are currently 5-0 under coach, Greg Loiacono, with wins over Vestal, Oneonta, Bishop Gibbons, La Salle and Monhonasen.
Schalmont's starting five consists an experienced group that includes 4 Senior's and 1 Junior. (SR's: Gannon Strube, Darnell Green, L.J. Randle, & Nick Boyd. JR: Shane O'Dell)
Their bench includes: Trent Randle, Jake Sanford, Peyton Hosner, Jeff Heller, Austin Redmond, Nate Masick, Ryan Brown, & Nick O'Connor.
The Sabres have been building towards contending for a Sectional crown and beyond, for the last 3 years, with this talented group of players. In 2016-17 I watched them play Glens Falls in a Sectional quarter-final game at HVCC where they started strong, holding a 21-19 2nd quarter lead, only to give up a 36-9 run and wound up losing to the eventual Sectional champ 85-56. (Box Score)
L.J Randle, then a sophomore, with a runner vs Glens Falls.
Last year Schalmont took another step towards the title by knocking off Glens Falls 87-82 in the semi-finals. However, they lost in the final to Mekeel Christian which went on to win the State title.
Shane O'Dell, then a sophomore, driving to the hoop in sectional final vs Mekeel Christian.
This year led by standout Junior scorer Shane O'Dell, plenty of Senior leadership, depth, and head coach Greg Loiacono the Sabres look like they are on a mission.
That mission was evident as they battled Monohasen at home on Friday night, coming out on top with a 66-48 victory. Here's the game recap, video highlights and more.
What I really liked about their effort was how they played with toughness and were strong with the basketball. They spaced the floor well, and despite not having their best shooting night, were in control of the game throughout vs. a really good Class A Mohonasen squad. Their defense at times was suffocating.
Schalmont's shot chart vs Mohonasen 12/7/18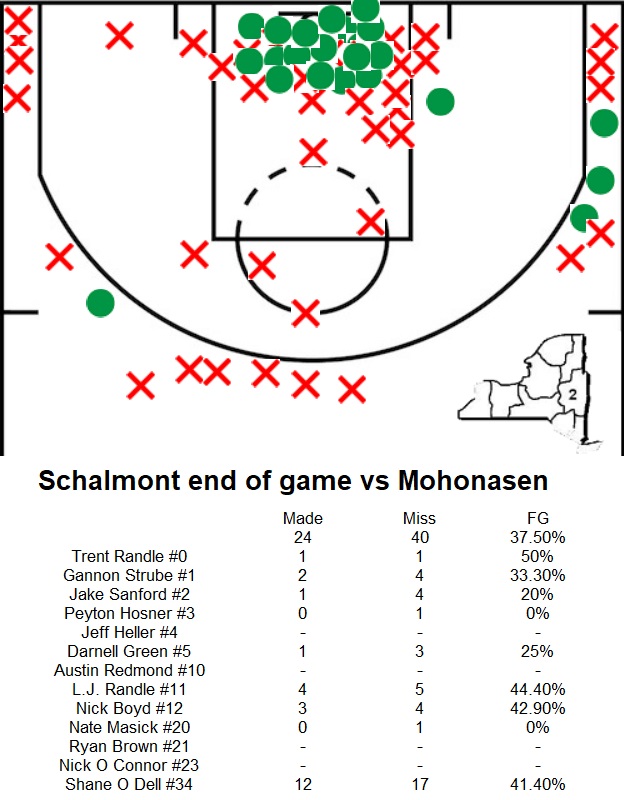 Only a handful of their 60+ field goal attempts weren't in the painted area or 3 point attempts. Very impressive shot selection even though they didn't shoot it as well as they'd like. A game like this shows how good they "could" be if they put it all together. Their ceiling is extremely high if they continue on this path of effort and execution.
Shot charts and highlight from top 3 scorers on the night.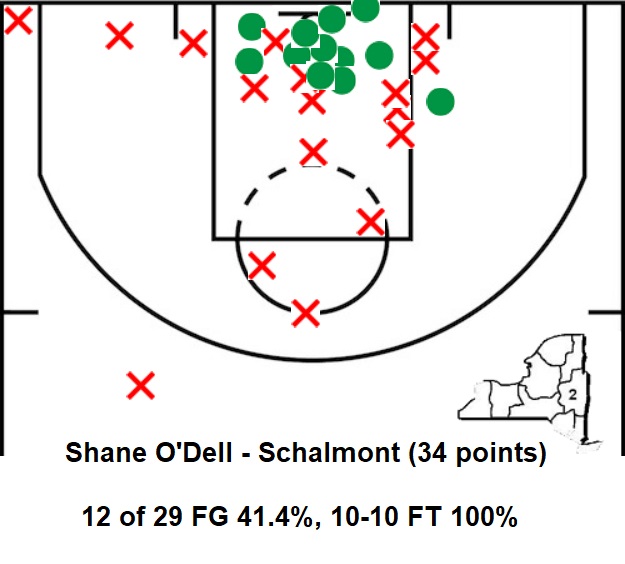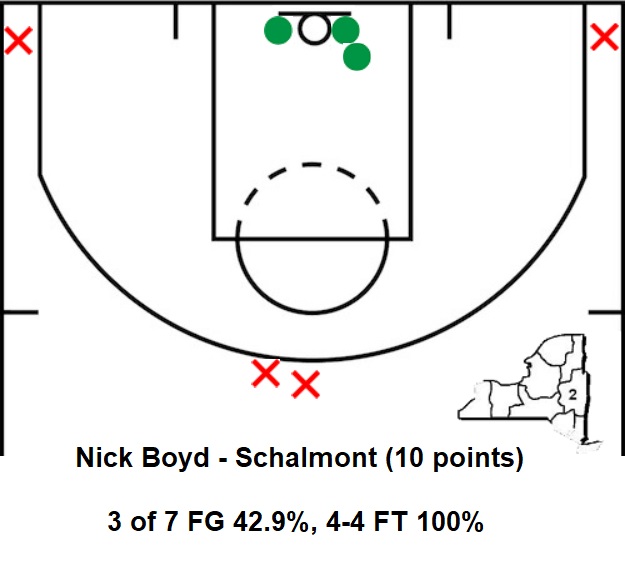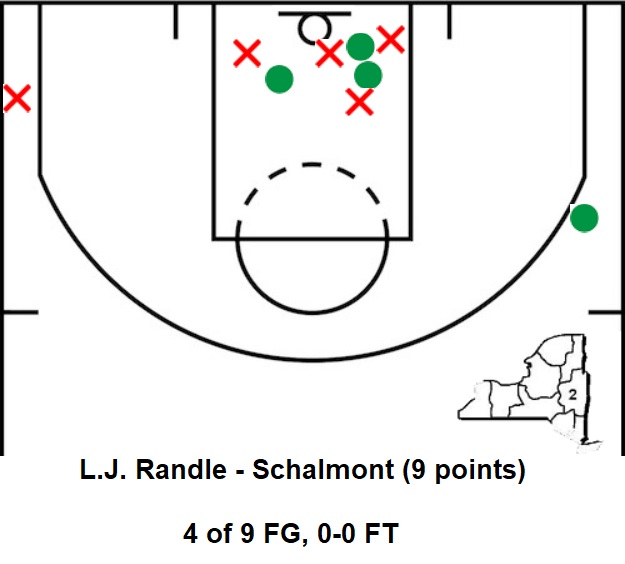 Shane O'Dell with a hesitation drive and reverse layup.
Nick Boyd's great post move and use of left hand.
L.J. Randle grabbing a rebound and finishing through 2 defenders.
The 2 other starters that didn't lead the team in scoring, Gannon Strube and Darnell Green fulfilled their roles to perfection. Strube knocked down 2 three pointers and Green was the team leader with 4 assists.
With only five games played thus far it's still very early in the season to crown anyone. Especially with teams such as Glens Falls, Watervliet, Catskill, Schuylerville and Hudson looming as strong teams in Class B.
That being said, if Schalmont continues to improve as they have the last 3 years, don't be surprised if the Sabres are making noise in Mid-March again this season.