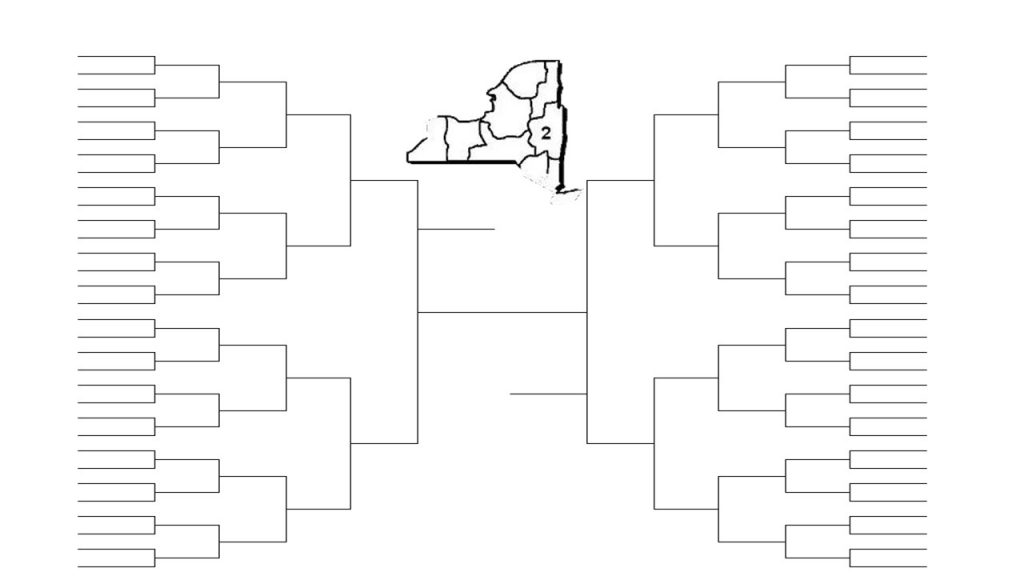 Here's what a 64 team Section 2 Girls' Basketball tournament would look like!!! Play the entire tournament in seconds.
(Click the link above, then click play. After the tournament is complete click on any game to get a box score/player stats for each game. Click play again to run the tournament over and over and over….with a different result each time.)
***NOTE if you want to change any teams or match-ups you can do that before hitting play to run the tournament.
Teams were seeded based on the final Section2basketball.com computer rankings.
Here are the numerical seeds for each bracket.
| | |
| --- | --- |
| 1 | Colonie |
| 2 | Shaker |
| 3 | Niskayuna |
| 4 | Queensbury |
| 5 | Mechanicville |
| 6 | Greenville |
| 7 | Cobleskill |
| 8 | Hudson Falls |
| 9 | Hudson |
| 10 | Hoosic Valley |
| 11 | Mohonasen |
| 12 | Berne-Knox |
| 13 | Argyle |
| 14 | Broadalbin-Perth |
| 15 | Ravena |
| 16 | Fort Edward |
| | |
| 1 | Averill Park |
| 2 | Catholic Central |
| 3 | Gloversville |
| 4 | Tamarac |
| 5 | Voorheesville |
| 6 | Guilderland |
| 7 | Troy |
| 8 | Lake George |
| 9 | Johnstown |
| 10 | Greenwich |
| 11 | Warrensburg |
| 12 | Catskill |
| 13 | Stillwater |
| 14 | Schuylerville |
| 15 | Chatham |
| 16 | Heatly |
| | |
| 1 | Bethlehem |
| 2 | Saratoga Springs |
| 3 | Columbia |
| 4 | Holy Names |
| 5 | Mekeel Christian Academy |
| 6 | South Glens Falls |
| 7 | Glens Falls |
| 8 | Schalmont |
| 9 | Maple Hill |
| 10 | Ichabod Crane |
| 11 | Rensselaer |
| 12 | Cohoes |
| 13 | Emma Willard |
| 14 | Mayfield |
| 15 | Fort Ann |
| 16 | Bishop Gibbons |
| | |
| 1 | Shenendehowa |
| 2 | Albany |
| 3 | Amsterdam |
| 4 | Scotia |
| 5 | Cambridge |
| 6 | Ballston Spa |
| 7 | Schenectady |
| 8 | Hoosick Falls |
| 9 | Watervliet |
| 10 | Middleburgh |
| 11 | Burnt Hills |
| 12 | Fonda |
| 13 | Lansingburgh |
| 14 | Hartford |
| 15 | Cairo-Durham |
| 16 | Duanesburg |