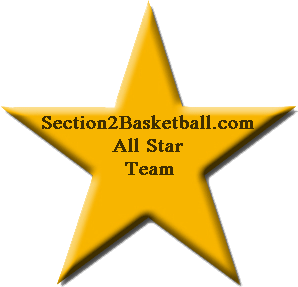 The All-Star teams are broken down by classifications (AA, A, B, C, & D) for this year's players.  After covering 60+ full games this season, and watching countless hours of film, I've seen many of the players listed below multiple times. For the player's that I haven't watched in person I've relied on contacts in Section 2, other online content/stats/reports, game film, and custom player rankings that I've created.
What I've tried to do for the custom computer-generated player rankings is create something that will take into account a player's scoring, her team's overall performance, and factor in the percentage of her points versus her team's total point total. Point statistics were used from timesunion.com to compile those numbers. With limited other stats available online (rebounds, steals, assists, etc.) I feel this is the best way to construct the rankings as it factors in overall team performance too.
Past computer player rankings, created for Section 2, have been in line with the top players in the Section as well as players that have moved on to play at the next level. In other words, I trust them as an independent opinion differing from my eyes and other research. All 3 (eyes, rankings, research) are factored in when creating the teams below.
(Players that scored around 10% or more of their team's total points were ranked and considered for the teams. Over 300+ players fit the criteria. I also know that I've left off really good players. I've done the best I could when comparing a player's impact on their team and factoring in their overall team strength.)
---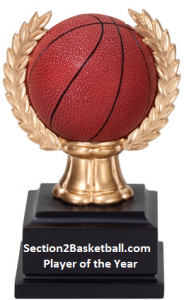 Player of the Year
Cam Tooley, Shenendehowa
Cam Tooley is a 1000 point scorer at Shenendehowa and is the total package as a player. Her 2017-18 per game averages include: 18.1 points, 6 assists, 4 rebounds, and 3 steals. She shot 49% overall from the field, 43% from long range making 74 three-pointers on the season, and shot 85% from free throw. The highlight clips above show Cam Tooley scoring in a variety of ways. It's impressive but her overall impact on a game, as well as being a great team leader, is what makes her a standout player.
—————————————————————————————————————–
For each of the teams below the players are listed alphabetically by team. They aren't ranked in any specific order for their specific set of 5 players. 6 teams for each Class AA, A, B. 7 teams for Class C as there are more teams and 5 teams for Class D.
To view video clips of a lot of the players listed click the players name below or check out our team/player custom highlight pages HERE. (Pick Division/League & team. Click on a player name on any clip and it will take you to their own page with their own custom link to share. If the player has 2017-18 clips in the system that's where the link below will send you. If they have 2016-17 only clips they will be linked to those.)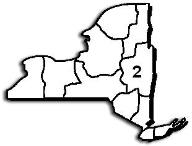 All Star Teams