2016-17 Section2Basketball.com Boys' All-Star Teams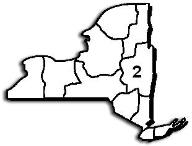 I've put together All-Star teams by classification for this year's players. (I'll try and break players down into All-Conference teams when I get a chance, too.) I've been to 70+ games this season so far and I've seen many of the players listed below multiple times. For the player's that I haven't watched in person I've relied on contacts in Section 2, other online content/stats/reports, and custom player rankings that I've created.
What I've tried to do for the computer-generated player rankings is create something that will take into account a player's scoring, his team's overall performance, and factor in the percentage of his points versus his team's total point total. Point statistics were used from timesunion.com to compile those numbers. With limited other stats available online (rebounds, steals, assists, etc.) I feel this is the best way to construct the rankings as it factors in overall team performance too.
Past computer player rankings I've created for Section 2 have been in line with the top players in the Section as well as players that have moved on to play at the next level. In other words, I trust them as an independent opinion differing from my eyes and other research. All 3 (eyes, rankings, research) are factored in when creating the teams below.
(Players that scored 10% or more of their team's total points were ranked and considered for the teams. Over 300+ players fit the criteria. I also know that I've left off really good players. I've done the best I could when comparing a player's impact on their team and factoring in their overall team strength.)
——————————————————————————————————————-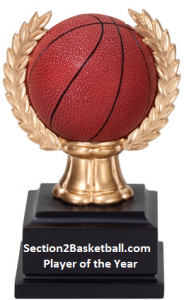 Player of the Year
Joseph Girard III, Glens Falls
Joseph Girard III scored over 900 points this season and helped his team win the Section 2 Class B title. In the clip above he outscored his opponent by himself, in the 3rd quarter, scoring 17 points to help turn a halftime deficit into a 20+ point win. Game was a Class B Sectional Semi-Final.
—————————————————————————————————————–
For each of the teams below the players are listed alphabetically by team. They aren't ranked in any specific order for their specific set of 5 players. 5 teams for each Class. 25 players total.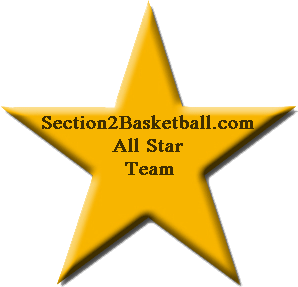 All Star Teams
| | | | |
| --- | --- | --- | --- |
| | Class AA | | |
| | | | |
| Player | 1st Team | Class | League/Division |
| | | | |
| Hayden Thompson | Bethlehem | AA | Suburban Council – Gray Division |
| Isaiah Moll | Colonie | AA | Suburban Council – Gray Division |
| Adam Anderson | Saratoga Springs | AA | Suburban Council – Gray Division |
| John Ryals | Schenectady | AA | Suburban Council – Blue Division |
| Daniel Buie | Troy | AA | Suburban Council – Blue Division |
| | | | |
| Player | 2nd Team | Class | League/Division |
| | | | |
| Brendan Mulson | Colonie | AA | Suburban Council – Gray Division |
| Bryce Waterman | Colonie | AA | Suburban Council – Gray Division |
| Brian Hart | Saratoga Springs | AA | Suburban Council – Gray Division |
| Tyrone Jenkins | Schenectady | AA | Suburban Council – Blue Division |
| Sloan Seymour | Shaker | AA | Suburban Council – Gray Division |
| | | | |
| Player | 3rd Team | Class | League/Division |
| | | | |
| Michael Ortale | Bethlehem | AA | Suburban Council – Gray Division |
| Marcus Friend | Green Tech | AA | Independent |
| Joe DeLollo | La Salle | AA | Colonial Council – Liberty Division |
| Jake Cook | Shaker | AA | Suburban Council – Gray Division |
| Mike Pizziketti | Shenendehowa | AA | Suburban Council – Gray Division |
| | | | |
| Player | 4th Team | Class | League/Division |
| | | | |
| Hamadi Gaddy | Albany | AA | Suburban Council – Blue Division |
| Jacorey Nixon | Albany | AA | Suburban Council – Blue Division |
| Matthew Riker | Bethlehem | AA | Suburban Council – Gray Division |
| Ryan Murray | Bethlehem | AA | Suburban Council – Gray Division |
| Raymond Evans | La Salle | AA | Colonial Council – Liberty Division |
| | | | |
| Player | 5th Team | Class | League/Division |
| | | | |
| Josh Hipwell | Ballston Spa | AA | Suburban Council – Blue Division |
| Will Aybar | Colonie | AA | Suburban Council – Gray Division |
| Jair Currie | Green Tech | AA | Independent |
| Tobias Holmes | Green Tech | AA | Independent |
| AJ Lawton | Saratoga Springs | AA | Suburban Council – Gray Division |
| | | | |
| | Class A | | |
| | | | |
| Player | 1st Team | Class | League/Division |
| | | | |
| August Mahoney | Albany Academy | A | Independent |
| Hameir Wright | Albany Academy | A | Independent |
| Will Bennett | Albany Academy | A | Independent |
| Davonte Jones | Lansingburgh | A | Colonial Council – Patriot Division |
| Christian Corker | Scotia | A | Foothills Council – South |
| | | | |
| Player | 2nd Team | Class | League/Division |
| | | | |
| CJ Mulvey | Albany Academy | A | Independent |
| Noah Yearsley | Averill Park | A | Suburban Council – Blue Division |
| Jahidi Wallace | Lansingburgh | A | Colonial Council – Patriot Division |
| Duncan Tallman | Mohonasen | A | Suburban Council – Blue Division |
| Sean Degraffenreid | Scotia | A | Foothills Council – South |
| | | | |
| Player | 3rd Team | Class | League/Division |
| | | | |
| Anthony Aponte | Amsterdam | A | Foothills Council – South |
| Anthony Germanerio | Averill Park | A | Suburban Council – Blue Division |
| Benjamin Keppler | Burnt Hills | A | Suburban Council – Blue Division |
| Cameron Jett | Hudson Falls | A | Foothills Council – North |
| Trevor Martin | Scotia | A | Foothills Council – South |
| | | | |
| Player | 4th Team | Class | League/Division |
| | | | |
| Dale Stanavich | Amsterdam | A | Foothills Council – South |
| Ryan Long | Averill Park | A | Suburban Council – Blue Division |
| Andre Smith | Bishop Maginn | A | Central Hudson Valley League |
| Anthony Kempster | Lansingburgh | A | Colonial Council – Patriot Division |
| Devin O'Leary | Queensbury | A | Foothills Council – North |
| | | | |
| Player | 5th Team | Class | League/Division |
| | | | |
| Robbie Spagnola | Amsterdam | A | Foothills Council – South |
| Dante Bouchard | Gloversville | A | Foothills Council – South |
| Jio Canty | Lansingburgh | A | Colonial Council – Patriot Division |
| Brandon Kruzinski | Mohonasen | A | Suburban Council – Blue Division |
| Cameron Bleibtrey | Queensbury | A | Foothills Council – North |
| | | | |
| | Class B | | |
| | | | |
| Player | 1st Team | Class | League/Division |
| | | | |
| Joseph Girard III | Glens Falls | B | Foothills Council – North |
| Tony Green | Glens Falls | B | Foothills Council – North |
| Carter Stewart | Mekeel Christian Academy | B | Western Athletic Conference – Division I |
| Deonte Holder | Mekeel Christian Academy | B | Western Athletic Conference – Division I |
| Sean Nolan | Voorheesville | B | Colonial Council – Patriot Division |
| | | | |
| Player | 2nd Team | Class | League/Division |
| | | | |
| Joey Ladipo | Broadalbin-Perth | B | Foothills Council – South |
| Preston Taylor | Broadalbin-Perth | B | Foothills Council – South |
| Joe Werner | Ichabod Crane | B | Colonial Council – Liberty Division |
| Peter Volkmann | Ichabod Crane | B | Colonial Council – Liberty Division |
| Matt Bernhard | Voorheesville | B | Colonial Council – Patriot Division |
| | | | |
| Player | 3rd Team | Class | League/Division |
| | | | |
| Jordan Jackson | Mekeel Christian Academy | B | Western Athletic Conference – Division I |
| Oscar Iteji | Mekeel Christian Academy | B | Western Athletic Conference – Division I |
| Sky Rebeor | Ravena | B | Colonial Council – Patriot Division |
| Stratton Sherman | Schuylerville | B | Foothills Council – North |
| Joey Atkins | Watervliet | B | Colonial Council – Liberty Division |
| | | | |
| Player | 4th Team | Class | League/Division |
| | | | |
| Zyir Beverly | Bishop Gibbons | B | Western Athletic Conference – Division I |
| Dan Parslow | Fonda | B | Western Athletic Conference – Division I |
| Michael Alert | Hudson | B | Patroon Conference |
| Troy Moran | Schalmont | B | Colonial Council – Liberty Division |
| P.J. Parker | Voorheesville | B | Colonial Council – Patriot Division |
| | | | |
| Player | 5th Team | Class | League/Division |
| | | | |
| Justice Brantley | Catskill | B | Patroon Conference |
| Marquis Alston | Cohoes | B | Colonial Council – Patriot Division |
| Guy Milliman | Hoosick Falls | B | Wasaren League |
| Matt Boyle | Johnstown | B | Foothills Council – South |
| Tyler Mattice | Schalmont | B | Colonial Council – Liberty Division |
| | | | |
| | Class C | | |
| | | | |
| Player | 1st Team | Class | League/Division |
| | | | |
| Matthew Fuller | Granville | C | Adirondack League – Division III |
| Cole Ackerman | Greenville | C | Patroon Conference |
| Caleb Scrime | Lake George | C | Adirondack League – Division III |
| Connor Farrington | Saratoga Central Catholic | C | Wasaren League |
| Jared D'Aloia | Stillwater | C | Wasaren League |
| | | | |
| Player | 2nd Team | Class | League/Division |
| | | | |
| Slade Pulliam | Berne-Knox | C | Western Athletic Conference – Division II |
| Alex Jones | Lake George | C | Adirondack League – Division III |
| Mason Flatley | Lake George | C | Adirondack League – Division III |
| Mitchell Barton | Schoharie | C | Western Athletic Conference – Division II |
| Steve Alescio | Schoharie | C | Western Athletic Conference – Division II |
| | | | |
| Player | 3rd Team | Class | League/Division |
| | | | |
| Jared Hulbert | Duanesburg | C | Western Athletic Conference – Division II |
| Silas Yelich | Greenville | C | Patroon Conference |
| Connor Backus | Hadley-Luzerne | C | Adirondack League – Division III |
| Austin Decker | Maple Hill | C | Patroon Conference |
| Zack Travis | Stillwater | C | Wasaren League |
| | | | |
| Player | 4th Team | Class | League/Division |
| | | | |
| Brenden Holcomb | Cambridge | C | Wasaren League |
| Trace Bourne | Granville | C | Adirondack League – Division III |
| Isaac Sanchez | Hoosic Valley | C | Wasaren League |
| Trevon Gifford | Mayfield | C | Western Athletic Conference – Division I |
| Kyle Fairclough | Waterford | C | Wasaren League |
| | | | |
| Player | 5th Team | Class | League/Division |
| | | | |
| Shawn Lemieux | Cambridge | C | Wasaren League |
| Thor White | Galway | C | Western Athletic Conference – Division I |
| Matthew Parker | Granville | C | Adirondack League – Division III |
| Peyton Olsen | Middleburgh | C | Western Athletic Conference – Division I |
| Tyrel Tillman | Saratoga Central Catholic | C | Wasaren League |
| | | | |
| | | | |
| | Class D | | |
| | | | |
| Player | 1st Team | Class | League/Division |
| | | | |
| Kobe Lufkin | Argyle | D | Adirondack League – Division I |
| Tyler Mattison | Fort Ann | D | Adirondack League – Division II |
| Danny Reidell | Northville | D | Western Athletic Conference – Division II |
| AJ Hayes | Oppenheim-Ephratah/St Johnsville | D | Western Athletic Conference – Division II |
| Evan St. Clair | Whitehall | D | Adirondack League – Division I |
| | | | |
| Player | 2nd Team | Class | League/Division |
| | | | |
| Garrett Bailey | Fort Ann | D | Adirondack League – Division II |
| Jeremy Johnson | Fort Ann | D | Adirondack League – Division II |
| Austin Young | Fort Edward | D | Adirondack League – Division II |
| Hayden Smith | North Warren | D | Adirondack League – Division II |
| Devyn Jones | Oppenheim-Ephratah/St Johnsville | D | Western Athletic Conference – Division II |
| | | | |
| Player | 3rd Team | Class | League/Division |
| | | | |
| Jonah Horton | Argyle | D | Adirondack League – Division I |
| Anthony Miller | Fort Edward | D | Adirondack League – Division II |
| Oliver Wendell-Braly | Hawthorne Valley | D | Central Hudson Valley League |
| Patrick Terry | North Warren | D | Adirondack League – Division II |
| Dawson Procella | Whitehall | D | Adirondack League – Division I |
| | | | |
| Player | 4th Team | Class | League/Division |
| | | | |
| Brodie Flewelling | Argyle | D | Adirondack League – Division I |
| Peyton Lufkin | Argyle | D | Adirondack League – Division I |
| Wyatt Gibbons | Germantown | D | Central Hudson Valley League |
| Adam Speno | Loudonville Christian | D | Central Hudson Valley League |
| Lucas Jetty | Northville | D | Western Athletic Conference – Division II |
| | | | |
| Player | 5th Team | Class | League/Division |
| | | | |
| Daniel Kellenbenz | Germantown | D | Central Hudson Valley League |
| Nate Leise | Hartford | D | Adirondack League – Division II |
| Devin Lazzaro | Heatly | D | Central Hudson Valley League |
| Clayton Erickson | New Lebanon | D | Central Hudson Valley League |
| Tyler Leon | Oppenheim-Ephratah/St Johnsville | D | Western Athletic Conference – Division II |